Eleven by Venus; March 2020 Delivery


Neon Dreams is a collection inspired by digital culture that utilizes acidic brights to make activewear youthful and approachable.
In Neon Dreams, color pops are used minimally and thoughtfully so as not to overpower the garment
This collection is meant to invigorate, reboot, and refuel the wearer.







Eleven by Venus; March 2020 Delivery
Glam is a collection that incorporates shiny fabrics and trims as a salute to the ath-luxe movement.
An all - over gold foil logo print is used to add interest and texture as well as bring brand awareness to customers.
Glam contains looks that are perfect for a transition from work out to after dark.
Eleven by Venus; April 2020 Delivery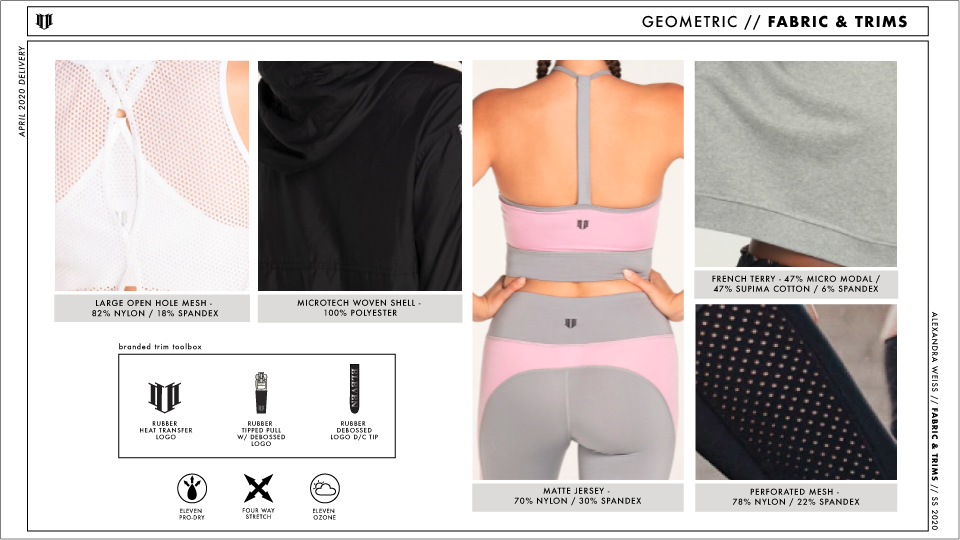 Geometric is a collection that utilizes pastels that play into feminine looks but are grounded back to sharp neutrals creating a more edgy, graphic look.
The body is contoured with mesh paneling and bold blocking to complement the natural curves of the body.
Mesh paneling is also used in order to promote breathability - perfect during a workout and to keep cool in the warmer months.